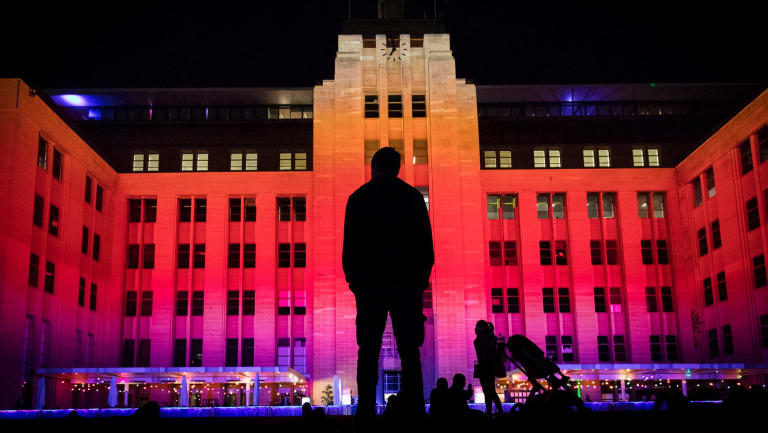 The 10th anniversary of Vivid on 25 May, 2018. Photo: Brook Mitchell
It's an annual event that quite literally lights up the city of Sydney each and every year. But I can say one thing for sure; ten bullocks would have a hard time dragging me to Vivid ever again.
In 2013, just 800,000 people attended. But by 2017, the event attracted 2.33 million visitors. This weekend, that number was around the same, despite the complaints that the festival of lights, now in its 10th year, is poorly organised, with many visitors giving up before deciding to return home.
I can't say I blame them.  According Reddit user Hantook, Vivid is "…a victim of its popularity," with other commenters saying the crowds are poorly managed and scary.
Why does one entire city need to be regaled with light displays each and every year? Can't the love be shared a little by Perth, Brisbane, Adelaide and Melbourne, and regional cities too?
It seems that just as one Vivid has finished, here it is again, mucking up people's work travel and filling the city with crushing mobs of open-mouthed gawkers.
The first year I went, I came terrifyingly close to losing my very unpredictable 3-year-old son in the throng of people, who could neither see him on the ground in the dark, nor care if they trod on him or knocked him over. Probably they didn't even realise he had fallen as they passed, treading on his little hands. Fortunately, I scooped him up in the nick of time.
But the entire scene haunted me, and I had a recurring nightmare about him that lasted for four months. There he was, near the railing at the Museum of Contemporary Art. I try to reach for him, but as I do, my grip on his little hand loosenes, and he slips silently into the black water. In the dream, I frantically dive into the murky depths but fail to find him in the freezing harbour.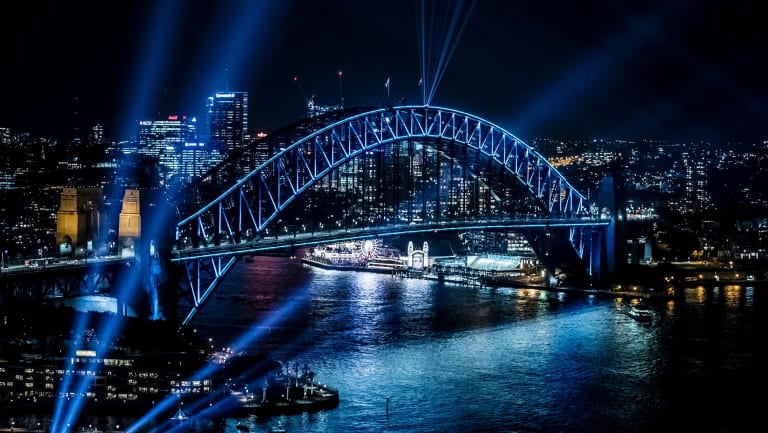 A media preview of The Sky Lark installation over Sydney Harbour to mark the 10 year anniversary of the Vivid festival on Light on 24 May, 2018. Photo: Brook Mitchell
The second time, I wasn't making the same mistake again. I was determined to find the joy and wonderment that everyone else seemed to be finding, so I went, child-free. Surely this was the recipe for success.
A babysitter was booked so I could see an installation a good friend was part of, which was in a drafty old terrace in The Rocks. It took me what felt like hours to get there, and then I froze to death for three more hours, despite the pretty lights and red wine.
It took even longer to get home and the whole night left me feeling I'd have been better off in bed. The $140 for babysitting stung that much more after such a night.
Just 40 of the 330 events are held outside the city's CBD (these are Kings Cross, Taronga Zoo and Luna Park), making a trek into an overcrowded city pretty much unavoidable for most, which would be fine if the trains operated as they should even on a non-Vivid day. Friends whose workplaces are in the CBD report endless frustrations just trying to get to work, or home from it… for three weeks straight.
By no means do I wish to diminish the tremendous effort of the many visual artists and skillful technicians who make this event possible, and attract well-deserved funding and attention.
I don't hate everything about it, nor wish it to be cancelled,' but I remain firm on two points.
Does it have to be every year for three whole weeks? Does it always have to be in Sydney?
It would be so much more special if it were less frequent, or elsewhere some of the time.
Source: Read Full Article