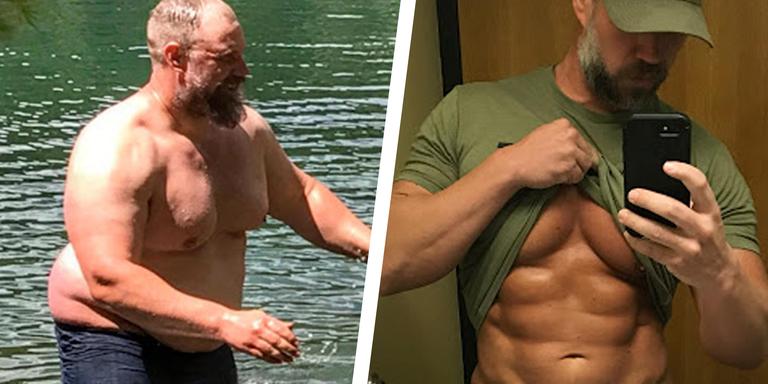 As a kid in the 1980s, Jeremiah Peterson made the commitment to get fit — not just for his looks, but to fight off the bullies, too. It was knowledge that would serve him well later in life, when he found himself as a 40-year-old man who was 100 pounds overweight and in need of yet another lifestyle transformation.
"I was born and raised in Missoula, Montana — you know, the River Runs Through It place," Peterson told MensHealth.com. "Growing up in the '80s, I was one of those kids always outside building forts, fishing, playing war, playing sports with all the neighbor kids."
Peterson was also being bullied at school, so he wanted to get fit to protect himself and "anyone else that couldn't protect themselves."
"In junior high, I made the decision to not get knocked around anymore," he said. "I practically lived at the local Y lifting and shooting hoops. I chose then, at the age of 15, to get stronger and gain confidence within myself."
~IN THE END, WE ONLY REGRET THE CHANCES WE DID'NT TAKE~. . Have you ever had a thought go through your mind such as, "I wish I did that," or, "I could have done that," or even worse, "I regret not doing that." . These are thoughts that we should try to limit as much as possible. Instead, we should be saying, "I am so glad I did that," or, "This changed my life," or even, "Best decision I have ever made." . Life is about taking chances, and going out of your comfort zone. . The old saying, "You'll never know unless you try it," applies. You never know if you can do something unless you put yourself out there. The worst thing someone can tell you is no, but you will never know the answer unless you try first. . I have always been an person who wants to get the most of out of life. . Do not be afraid to take a chance. One decision may change your life forever, but you will never know if you do not try. ~~~~~~~~~~~~~~~~~~~~~~~~~~~~~~~~~~~~~~~~~~ . . #noregrets #takechances #iwish #bestdecision #change #changeyourlife #100to0 #takingchances #life #onelife #win #wintheday #neverquit #neversettle #keepdreaming #nevergiveup #keepfighting #conquer #missoula #montana
A post shared by Jeremiah Peterson (@jeremiahpetersonmontana) on
Because of this love of sports, Peterson went on to also gain a degree in coaching from Trinity Bible College in North Dakota. After graduating, he opened a small personal training studio in Scottsdale, Arizona. There, he met his wife, who was a yoga instructor.
The two married and had their first child together, a son, before deciding to move back to Montana. Instead of continuing his personal training business, the couple decided to open an antiques store, which "became our only focus," Peterson said.
. . We stopped on the way to Church this morning to take this picture. . From my Family to Yours. Happy Easter. . You don't choose your family. . They are God's gift to you. . I thank God for all the blessings he has given to me and my family. . . . "If you confess with your mouth that Jesus is Lord and believe in your heart that God raised him from the dead, you will be saved." Romans 10:9 … ~~~~~~~~~~~~~~~~~~~~~~~~~~ #god ##hehasrisen #easter #family #familylife #godsgift #missoula #montana
A post shared by Jeremiah Peterson (@jeremiahpetersonmontana) on
He soon fell into the day-to-day trappings of owning a family business, letting his love for fitness fade into the background. He stopped going to the gym — and every night after the shop closed, he'd sit around drink a few beers.
"My desire to hike and fish, the very habits that I had created so many years ago, slowly disappeared into the process of building a life and a business," he said.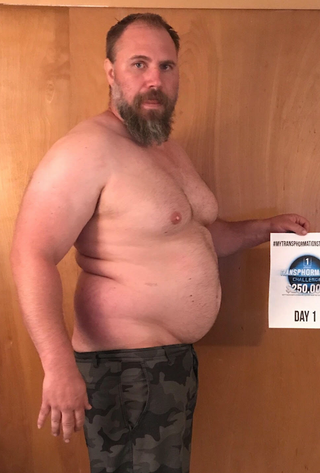 Jeremiah Peterson
Peterson found himself withdrawing from everything, including taking family photos and spending time in the mountains with his children. In 2017, at 40 years old, Peterson weighed 290 pounds — and one fateful day, he realized he couldn't hike anymore with his 10-year-old and 8-year-old.
"On a particular backpack hiking trip out in the mountains with my family, I had a kind of 'aha' moment," he said. He was out of breath, feeling chest pains as his kids continued on without him. "I reflected on what my life had been. I thought about what my life was at that very moment, and saw what I wanted my life to be."
This time of year especially I think people are scrolling social media to find that one post that stops them in their tracks. Scrolling. Scrolling. Looking for that "sign" that makes them decide to make a change. Well. Even if they do find a post and account that they can really relate to…. It isn't enough. We have to have a powerful reason to back our actions. Look motivation easily falls to the wayside. Even if you can get your gym game on track. Food is EVERYWHERE. That meme that says "anyone can workout but it's what we do with the other 23 hours is what really matters" is earth shaking true! People around you will always say "ah live your life" "enjoy life" "just have a beer". While I will agree with them we do have to live your lives. You need to decide how you want to live your life. Your terms. Seriously. Think about what you want in this life. If you don't have it. Chances are year after year you have done the EXACT SAME thing. I know because that was me. I know how I got to be that fat guy on the left. I know how I got to be that guy on the right. Just like you know. You know exactly what you need to do. Do it. Now. Not Monday. Now. ?? #Repost @1stphorm (@get_repost) (Swipe ⬅️) In case you missed our post last night, we announced the winner of the #Transphormation Challenge for 2017 with the overall grand prize of $50,000 going to @jeremiahpetersonmontana! Also a big shoutout to our newest Elite Trainer and $25,000 winner, @warriorfit1! Congratulations to all our winners and to EVERYONE that made a commitment to get better in 2017! We have big news coming in regards to the challenge so make sure your post notifications are on so you can be notified as soon as we announce! #iam1stPhorm If you're wanting to make a change in 2018 whether you want to lose fat, gain muscle, or help others do it, be sure you're signed up on mytransphormationstartstoday.com for $250,000 Challenge! Once you sign up, you'll gain access to a site with all the tools you'll need to be successful in one spot! All included: ? FREE custom diet plans ? FREE custom workout plans ? FREE Blogs ? FREE Training videos ? FREE E-Books ? FREE healthy Recip
A post shared by Jeremiah Peterson (@jeremiahpetersonmontana) on
The first change Peterson made was to think about the food he was putting into his body. Like many guys looking to transform, Peterson took on the keto diet, which entails eating 60 to 80 percent of your total calories from fat, around 15 percent of your calories from protein, and less than 10 percent of your calories from carbohydrates.
This alone "made such a tremendous change in how I felt almost immediately," Peterson said.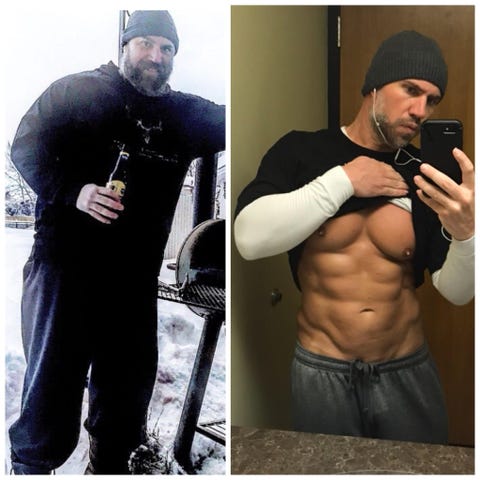 Jeremiah Peterson
Next Peterson cut out all alcohol (just like Zach Galifianakis, Ed Sheeran, and Jonah Hill, who all credit their weight loss to giving up booze).
Finally, he began to exercise once again — not in the gym, but in the great outdoors.
"I hiked every morning and every evening with my dog in the mountains that I loved so much as a kid growing up," he explained, adding that his hikes usually lasted about 40 minutes apiece. He slowly implemented a weight routine, lifting weights five or six days a week for about an hour a day on his lunch break. (If you're looking to get started in the weight room check out our 3-week beginner's guide here.)
Peterson ended up losing 92 pounds in just five months, dropping from his heaviest of 290 pounds to 198.
"I lost the weight just doing what I love," he said. "I know it sounds simple and it is, really it is."
OVERCOME YOUR FEARS AND FULFILL YOUR DREAMS!!!! . Fears in life are what keep us from trying new things and going after our dreams. . You fail from not trying, not from trying and not succeeding. . These "attempts" at new things are some of the best growing experiences we can have in our life. . In order for each of us to reach our goals we must go after our dreams. . It is difficult at times to keep trying over and over again without seeing any results…trust me I get it. . It is much easier to just feel defeated, to settle for less because we think there is nothing more. . We believe a lie that there is nothing bigger. . That right there is the fear in us speaking. . When we think something might cause pain or is a threat to us we are experiencing fear. . Many of us are experiencing fear without even being conscious of it. . Do you ever look back on your life and wish you had done "it" but didn't? . Live for your dreams. . Know your fears and be BOLD in moving forward. . Find new ways to come to terms with your fears… FACE them over and over again. . Do NOT listen to your fears! Learn your fears so you know EXACTLY how to CONQUER them! . Keep doing it so that you have no "WHAT IF I HAD DONE THIS" in life, only "I HAVE DONE IT." . . ##bodytransformations #fattoshredded #sculpted #physique #fattolean #mytransphormationstartstoday #transformforlife #bestself #dothework #ketotransformation #keto #ketodiet #ketogenic #ketogenicdiet #ketoweightloss #ketosis #ketolife #ketolifestyle #nevergiveup #neversettle #arete #missoula #montana
A post shared by Jeremiah Peterson (@jeremiahpetersonmontana) on
Now, he's hoping to inspire other guys — and it appears to be working. His Instagram account, @jeremiahpetersonmontana, has amassed more than 36,000 followers. His inbox is always flooded with people asking for advice, which he's more than happy to share.
"I receive thousands of amazing messages of hope, gratitude and encouragement every day," he said. "Those messages make this change in my life into something so much bigger than I ever dreamed or expected it to be."
Source: Read Full Article