The star of Diners, Drive-Ins, and Dives wants to take you to flavortown. Guy Fieri grew up eating macrobiotic with his earthy parents, but today, he makes a name for himself with bold flavors, crazy combinations, and lots of fries. You can cook like Fieri at home without going off the wall, using the following tips. Most of have probably made this mistake — I know I have (page 11).
1. With barbecue, go low and slow
Southern Texas BBQ smoker | joshuaraineyphotography/Getty Images
If you think you can get real, smoky barbecue flavor on a grill or in the oven, we have bad news for you. "The real key to great barbecue starts with quality meat that's seasoned correctly and smoked in a real smoker with hard wood," Fieri told INSIDER.
But the frosted-tips star also emphasized the importance of cooking it "low and slow." He added, "The best barbecue is when your brisket takes 12 to 16 hours to make." So for barbecue that falls off the bone, plan ahead. It really should take all day.
Next: If you have smoke, you can also have the following.
2. Get a facial while you steam or boil food
Pot steaming on the stove | DedMorozz/Getty Images 
Fieri has said he doesn't put much thought into his appearance, but he also never turns down a good stovetop facial. While pouring a steaming broth into a pan, Fieri told Delish, "I'm getting a parsnip/celery root facial over here."
Veggies or other water-filled foods can release a lot of steam. Prepare for that by wearing appropriate protective gloves. And go ahead and stick your face in there, if it doesn't get hot enough to scald you.
Next: Always prepare for cooking with this next thing.
3. Don't cook when sleepy or distracted
Cappuccino | Christopher Jue/Getty Images
If you don't get enough sleep, you can easily make mistakes in the kitchen — and those can have dangerous consequences. Fieri always starts off his day with a cup of Joe, but you can pick your poison. Making sure you have your caffeine of choice and arrive in the kitchen well-rested and ready to go means you likely won't make as many blunders and end up with a fabulous feast.
Next: When in the kitchen, make sure you do the following.
4. Always watch your kitchen masterpiece
Guy Fieri cooking in the kitchen | Paul Zimmerman/Getty Images
"The top cooking trick I learned from my mom is to stir and rotate your granola," Fieri told Today. "I learned my lesson on cooking granola when I was learning to cook from my mom … It was a really great lesson in keeping an eye on what you're doing."
Some stoves and ovens have "hot spots," where food can burn in some areas while not even finishing in others. To combat this, watch your creations carefully. Make sure you rotate pans to ensure even cooking and avoid burning, too.
Next: This tip also works great for hosting family and friends.
5. Everybody loves DIY
A build-your-own taco bar | Gary Miller/Getty Images for GQ Jam In The Van
"When I was a kid, taco night was the most anticipated meal," Fieri told First We Feast. On taco night at the Fieri house, his parents set up a Lazy Susan with all of the ingredients. That way, everyone could build their own tacos with as much of each ingredient as they wanted.
"I really liked that experience of making it my way," Fieri said. "People love to customize things; it's all about food and the interaction with people." For family dinners or even parties, take some of the stress off the chef by setting up a DIY bar.
Next: If your house contains some picky eaters, try the following trick.
6. Picky kids? Wait 'til they get hungry
Girl pushing her dinner plate away | patat\Getty Images 
"When people say, 'how do I get my kids to try this,' I say, 'feed them when they're hungry,'" Fieri advised First We Feast. "Their likeliness to eat something that they're not used to eating will increase." When living with a family in France as a foreign exchange student, Fieri discovered his love of mushrooms when the starving kid faced off with a fungi tart.
If your kids refuse to eat something, try tempting them with it after school or at the end of a long day. You can also try mixing it with foods they already love. Veggie pizza, anyone?
Next: Meat-lovers, have we got a Fieri tip for you.
7. There's no such thing as too much bacon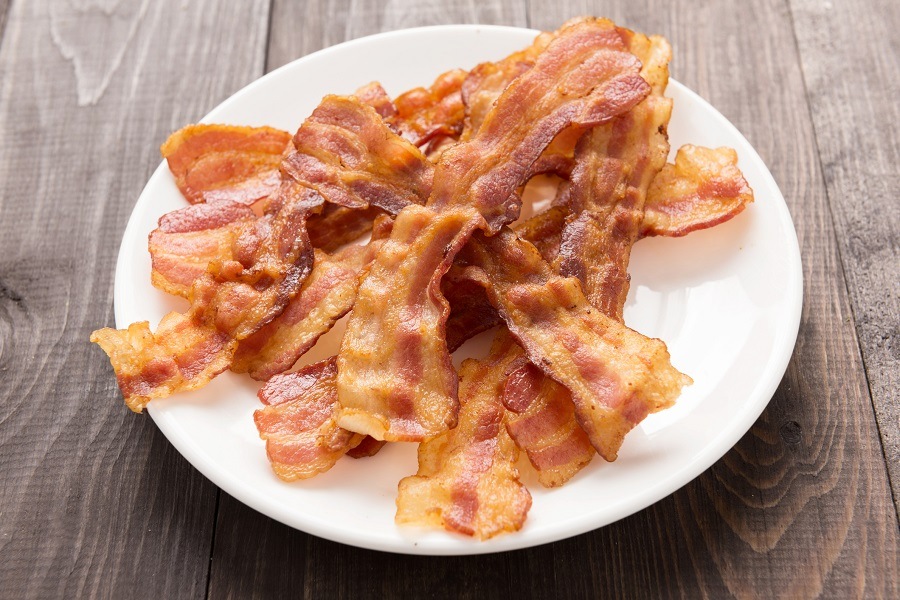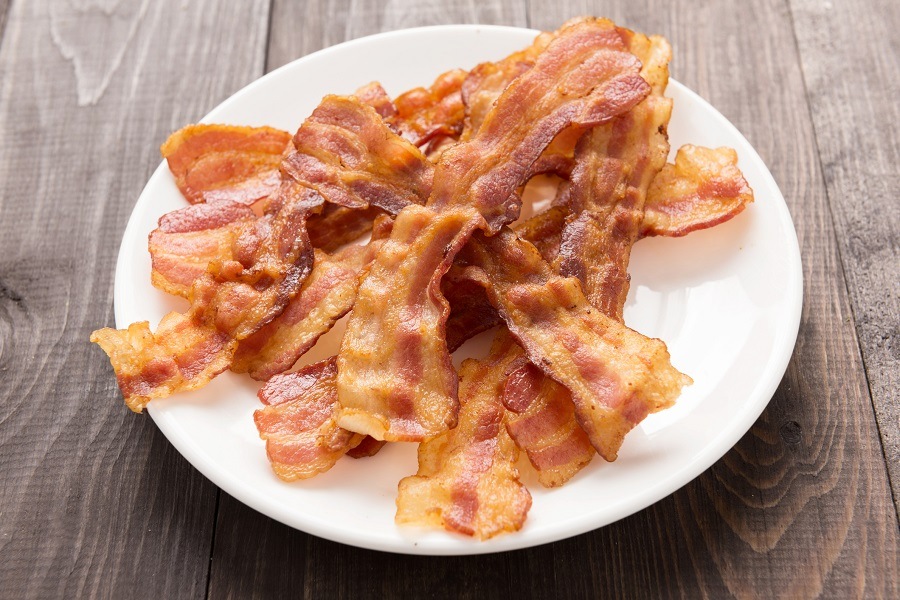 Bacon | Villagemoon/iStock/Getty Images
"Bacon is also like pizza—when it's bad it's still good," Fieri told Extra Crispy. Do you always run out of bacon at your house? Fieri shared a tip for that, too. Count out three pieces of bacon for each person, then triple it. "Science. It's Guy Math," he said. "It's really the truth, because when does anyone ever complain 'Oh no, there's too much bacon?''"
Next: This one will add prep time, but trust us, you want to do it.
8. Brine your meat for better flavor
Chicken on the grill | Shaiith/iStock/Getty Images 
When making roast chicken, you just have to brine it. Fieri told US Weekly he considers it, "one of the greatest things you can have in barbecue." Take a bone-in chicken and mix equal parts salt and sugar, a bay leaf, some whole peppercorns, and chili flakes. Add in thyme, garlic, or whatever spices you prefer. Let that sit for a few hours or overnight for a better chicken.
Fieri also prefers bone-in meat, for better flavor. "When you're cooking something and you're getting the bone, the fat, the skin, all of the pieces coming together, that's what's all adding that really deep rich flavor," he said.
Next: The king of meat also suggests paying attention to this element.
9. Don't forget your sides
Steak with lobster and vegetables | rez-art/Getty Images 
Would you ever guess Fieri loves vegetables? "I know everybody likes to make the protein the center of the plate, [but] to me, what really is the exciting factor is where are we going to take the vegetables?" Fieri told US Weekly. "My veggies are usually what speaks to me about where I'm going to take it [a meal.]"
When whipping up a feast, focus on the meat but don't forget the auxiliary players. A good flavorful vegetable and starch can also really round out a meal. Not to mention, they offer great nutrition, too.
Next: This tip particularly matters when feeding a crowd.
10. Let people pitch in for a party
Overhead view of a group of friends having a meal at a restaurant | iStock.com/DGLimages
Whether you have to host a holiday, a Super Bowl party, or a backyard barbecue, don't let it all fall on your shoulders. "Let people bring stuff," Fieri told NFL.com. "When people ask what they can bring, so often we're quick to say, 'Nothing, I've got it handled.'"
Fieri calls that a party foul. If you ask your friends to chip in (pun intended), it takes the weight off the host, as well as ensuring guests with specific dietary needs or preferences also get what they need. When hosting a party, it really does take a village.
Next: When grilling, step away from the following tool.
11. Forget the lighter fluid
Woman lighting a gas grill | sebastianosecondi/Getty Images
When a lot of us fire up the grill, we want it hot, fast. But charcoal really does make a difference, even if it takes longer. "The most common problem is not cooking with enough fire or cooking over coals that haven't established themselves," Fieri told Parade. "But using lighter fluid, I think, is the biggest mistake people make. It's nasty and you don't want it in your food."
Instead, Fieri recommends getting real charcoal with some wood in it. It imparts better flavor, with none of the chemicals in lighter fluid. Think about it: if you can't safely inhale it, do you really want to cook with it?
Check out The Cheat Sheet on Facebook!
Source: Read Full Article