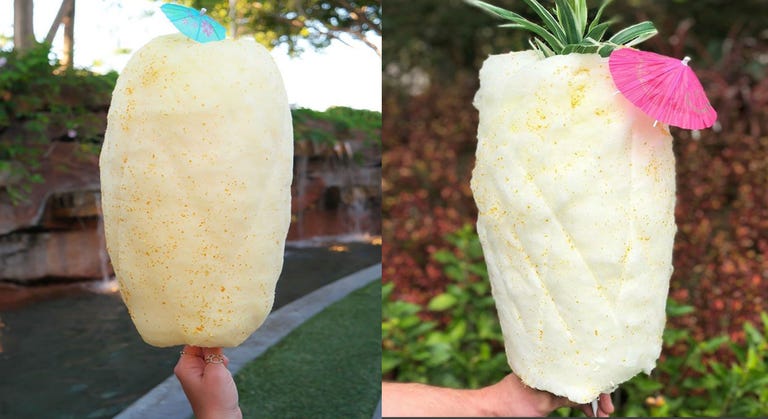 Disney has proven again and again that when it comes to food at its parks, the sky is the limit. They're constantly dropping new desserts, but one flavor popping up ALL around the park is pineapple. Dole Whip Donuts, pineapple marshmallow churros — you name it. And though Disney already had a pineapple cotton candy, they wanted an upgrade, and an upgrade they made. A new version has arrived, and it's probably the biggest order of cotton candy we've ever laid eyes on.
The previous fluffy sweet treat was a pineapple dole whip cotton candy, that was looking already pretty drool-worthy to start, but, nothing tops this new one that looks like a real-life pineapple topped with festive mini umbrellas and pineapple leaves. You can find it at Downtown Disney's Cotton Candy Creations for $8.
We're jeal0us of the fans who have already had the pleasure of trying it and, of course, getting an epic pic.
One Disney food blogger, Disney Hungry, posted about the Pineapple Cotton Candy and said, "you will not believe your eyes when they hand this to you. Super fun. Didn't completely taste like pineapple to me, but it was sweet, fluffy and totally fun."
Another Disney food instagrammer said, they "love the golden "Pixie" glitter sprinkled all over the massive pineapple." They also added that the tropical treat tasted like vanilla, not pineapple.
Also keep in mind, the cotton candy is available after 4 p.m. on weekdays and after 2 p.m. on weekends.
Follow Delish on Instagram.
From: Delish
Source: Read Full Article