It's time to talk about something: snacking on the keto diet and how much of a complete bummer it can be. (Unless you're into carrying around shots of whole cream or sizzling steaks as snacks; in which case, weird.)
But it's time to dry your tears, keto-dieters: There are tons of keto protein bars out there that will keep your hanger-induced rage at bay. You just have to be a little more discerning when it comes to what's in your go-to bar.
Priority number one? "You always want to start with whole-food ingredients," says Lauren O'Connor, R.D., owner of Nutri Savvy Health. This means looking for bars that prioritize healthy fats and whole proteins over powders and supplemented vitamins. Steer clear of preservatives, artificial sweeteners, and processed fats.
For the perfect keto bar, O'Connor recommends looking for products or recipes that contain up to 60 to 75 percent fat, 15 to 20 percent protein, and 10 percent or less of carbs.
Look for ingredients like MCT oils, extra-virgin olive oil, cold-pressed coconut oil, avocado, nuts, hemp hearts, and seeds. (If you're sensitive to carbs or doing strict keto, skip the nuts and stick to straight oil.)
Good protein choices include wild-caught fish, grass-fed meat, poultry, or eggs, she says. (Think you can't find a bar with real salmon? Just wait.) If you're looking for a more cost-friendly alternative, whey or collagen powders also pack a clean protein punch.
Here are a few top picks for the best keto protein bars out there. There's a mix of homemade and store-bought options, so you can get domestic AF sometimes, and phone it in on lazier days.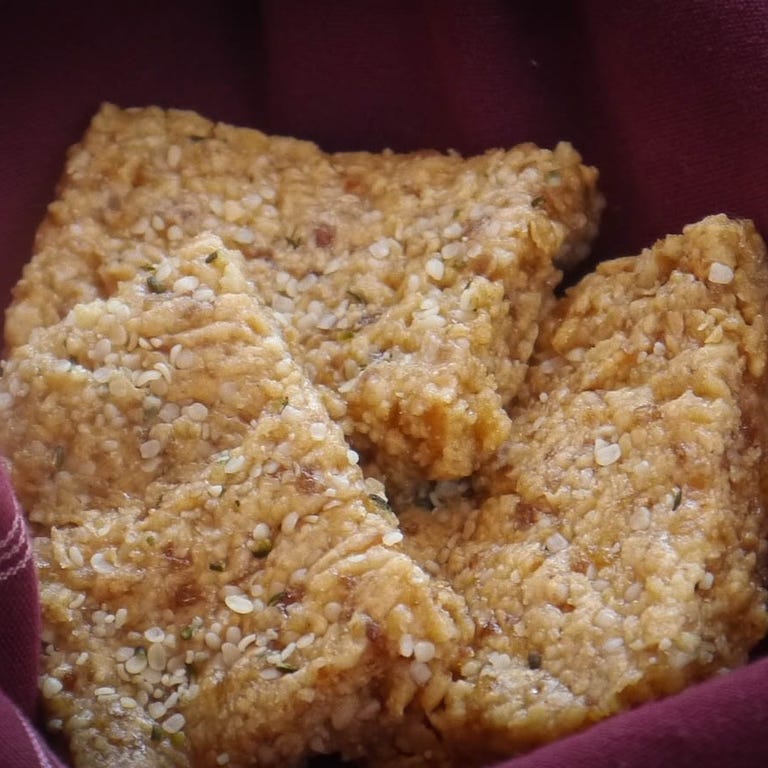 Nutri Savvy Health
Get the recipe
Pumpkin spice protein and coconut cream combine with crunchy nuts to make a tasty keto protein bar that will satisfy your every craving. You can whip this one up in under five minutes and it needs no cooking. The recipe even includes variations to customize it to fit your exact macro goals.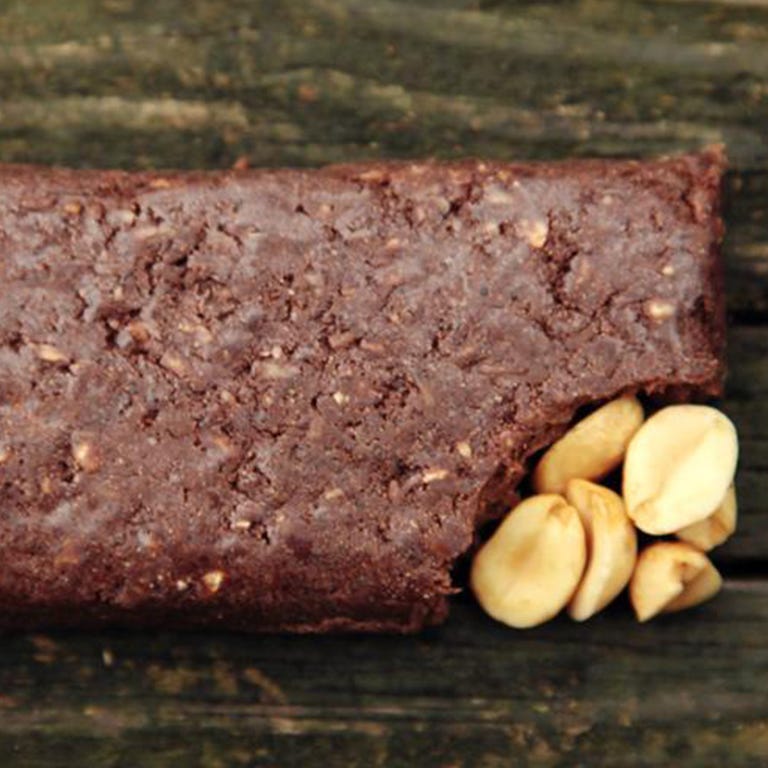 ketobars.com
Keto Bars, $23 for 10 bars, ketobars.com
BUY NOW
These are the OG keto bars. They were designed specifically for keto dieters who don't want to mess around with snacks that just sorta come close to the right ratios. They're packed with the exact amount of fat and protein keto dieters want while having three grams or fewer of net carbs. They come in two flavors: chocolate peanut butter and chocolate coconut.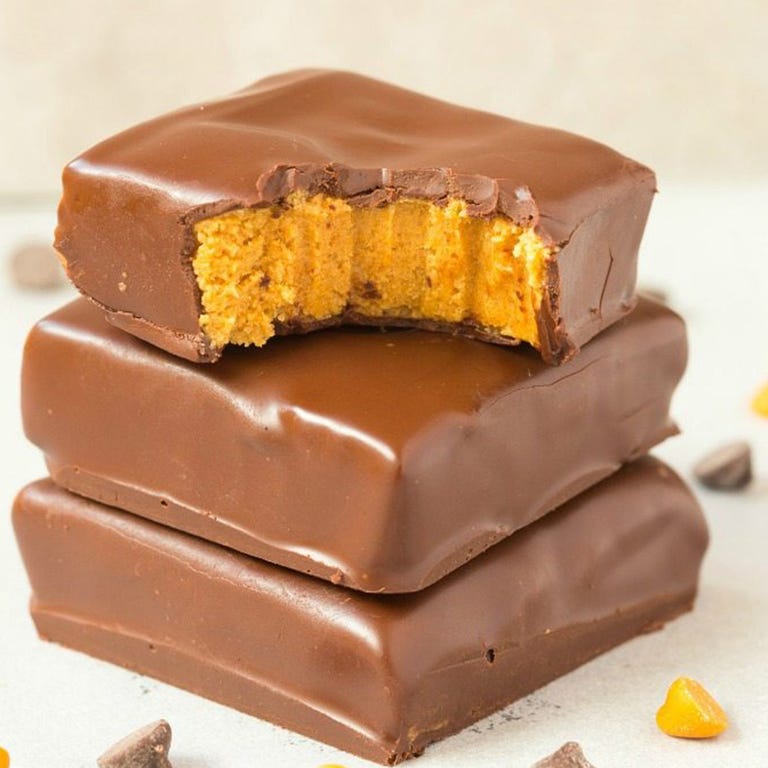 The Big Man's World
Get the recipe
These peanut-butter chocolate bars are legendary in the keto community thanks to their decadent texture and flavor. If you're just looking to keep carbs low, follow the recipe as written. If you're doing strict keto, the recipe offers several modifications, including using liquid monk fruit as the sweetener and buying a sugar-free keto chocolate. The best part? These have only five ingredients and there's no baking required.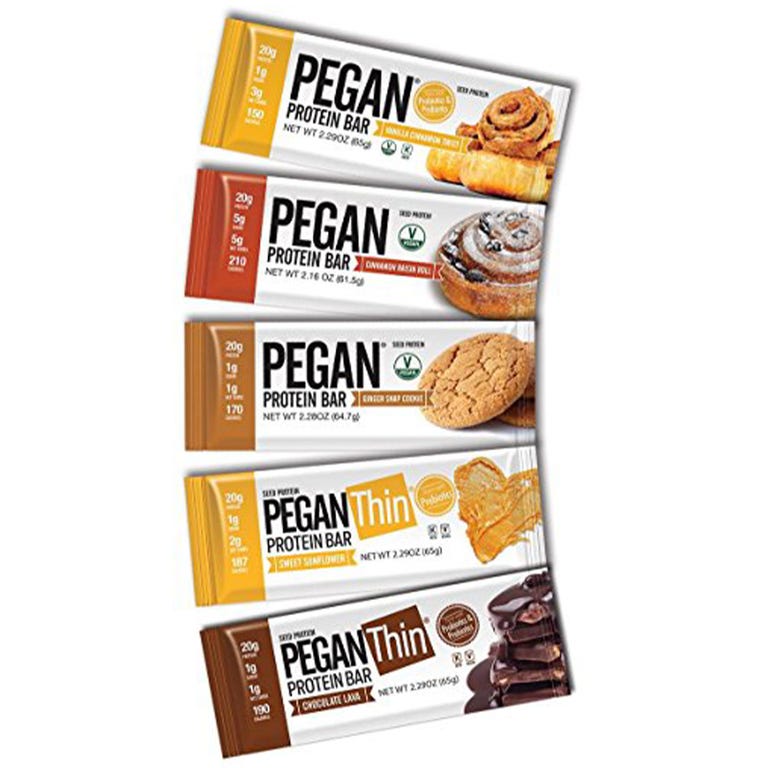 julianbakery.com
Pegan Protein Bars, $30 for 12 bars, amazon.com
BUY NOW
FYI: Vegans and vegetarians can follow the keto diet too. Pegan Protein Bars strike the right balance of macros—just one to two grams of net carbs—and all the protein is from plant sources. They come in regular and "thin" varieties, and offer five flavors including lava chocolate, sweet sunflower, vanilla cinnamon twist, cinnamon raisin, and ginger.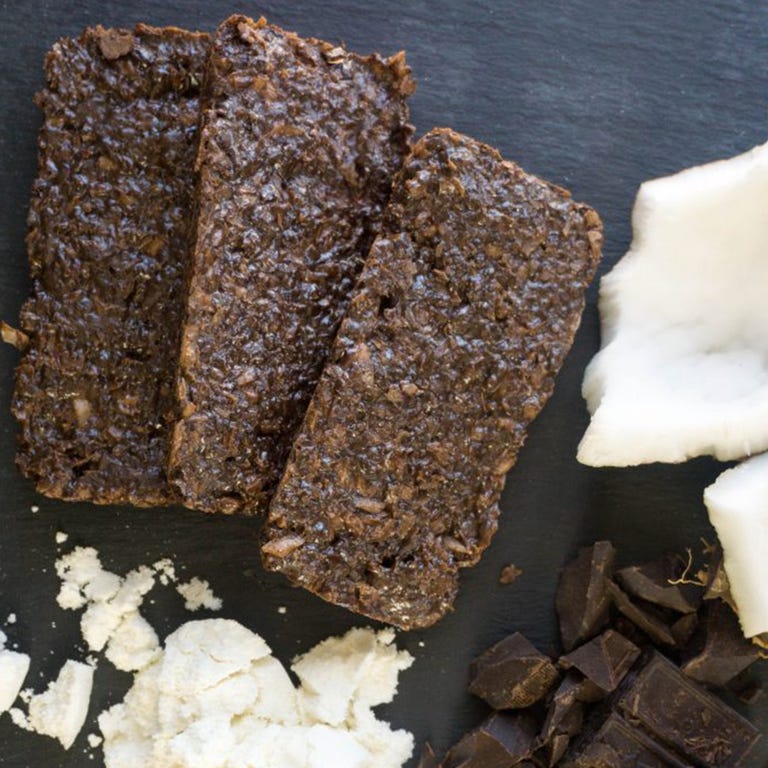 Keto Connect
Get the recipe
Coconut and chocolate are a perfect pairing in this recipe. Real, whole coconut meat, butter, and whole cream give this bar its creamy texture. Then it's dipped in baker's chocolate and sweetened with erythritol and stevia to keep the carbs under three grams.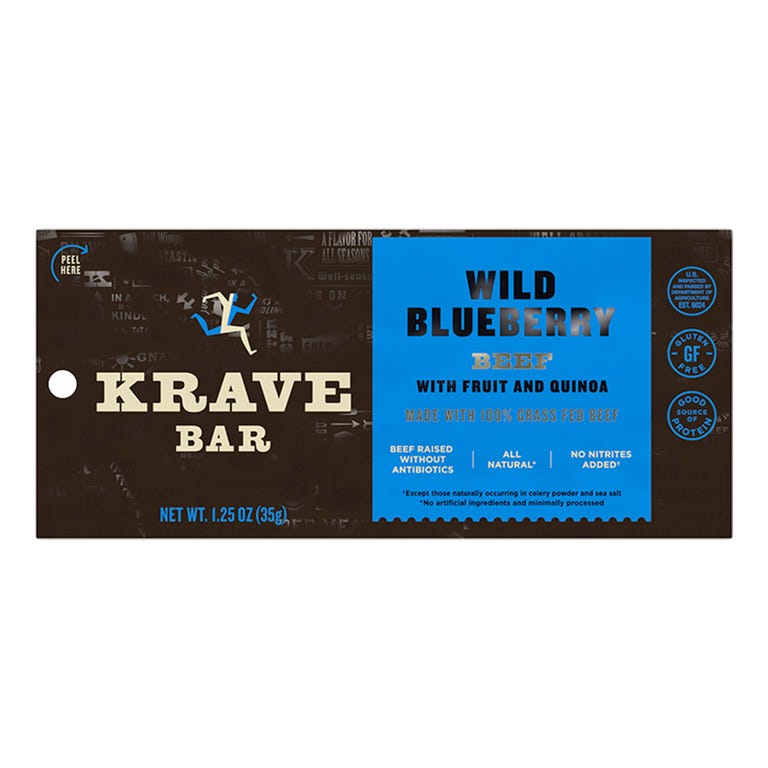 kravejerky.com
Krave Bars, $24 for 12 bars, amazon.com
BUY NOW
Honestly, I was taken aback at the premise of meat bars at first, but one bite shows why Krave bars are so beloved. They combine natural beef, turkey, or pork jerky with dried fruit and quinoa for a sweet-salty-spicy snack. These have a few more carbs (nine to 12 grams per bar) but they're from healthy fruit and quinoa which is a plus, O'Connor says. Flavors include wild blueberry beef, chipotle cherry beef, cranberry thyme turkey, and mango jalapeño pork.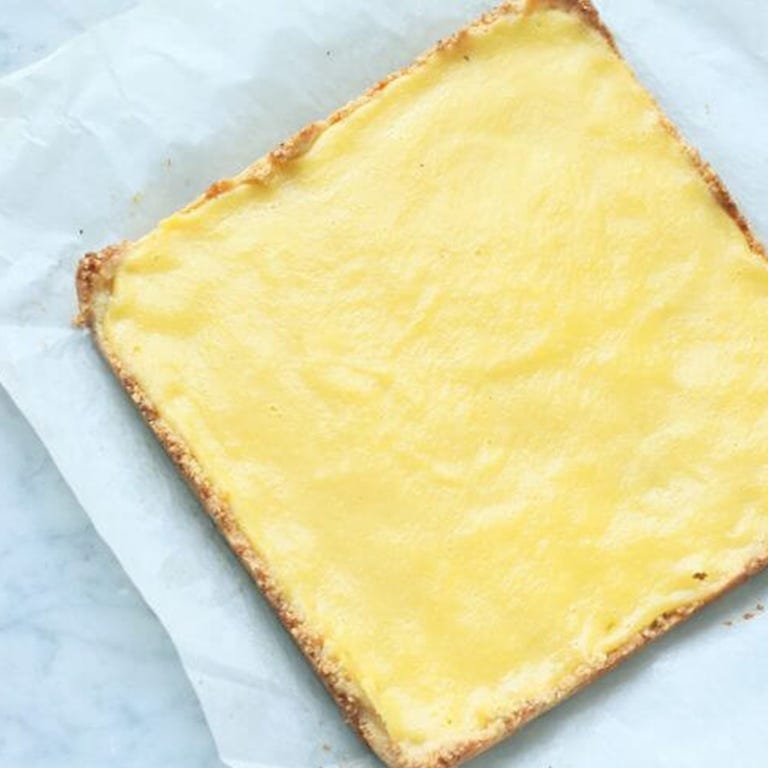 I Breathe I'm Hungry
Get the recipe
If you're a strict keto follower, chances are you're really starting to miss fruit. Indulge in the taste of sweet lemon without the high-carb sugar with this recipe from I Breathe, I'm Hungry. The lemon provides vitamin C and the almond flour provides some fiber and vitamin E, all important nutrients for keto dieters, O'Connor says. Plus these keto protein bars pack 19 grams of fat, thanks to egg yolks and butter.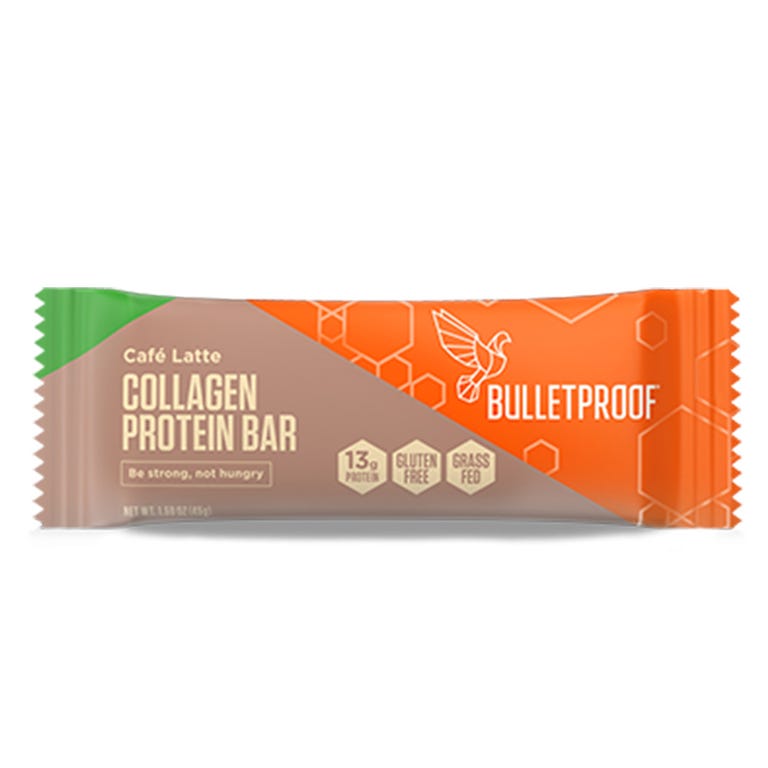 bulletproof.com
Bulletproof Collagen Protein Bars, $35 for 12 bars, amazon.com
BUY NOW
In the world of protein, collagen is the popular new kid. The powder, made from the skin, muscles, bones, and connective tissue of animals (usually cows or chickens), is high in protein and virtually tasteless so you can sneak it into any recipe. Try it out with these collagen bars that come in seven sweet flavors, including café latte, vanilla shortbread, mint chocolate, lemon cookie, and cookie dough.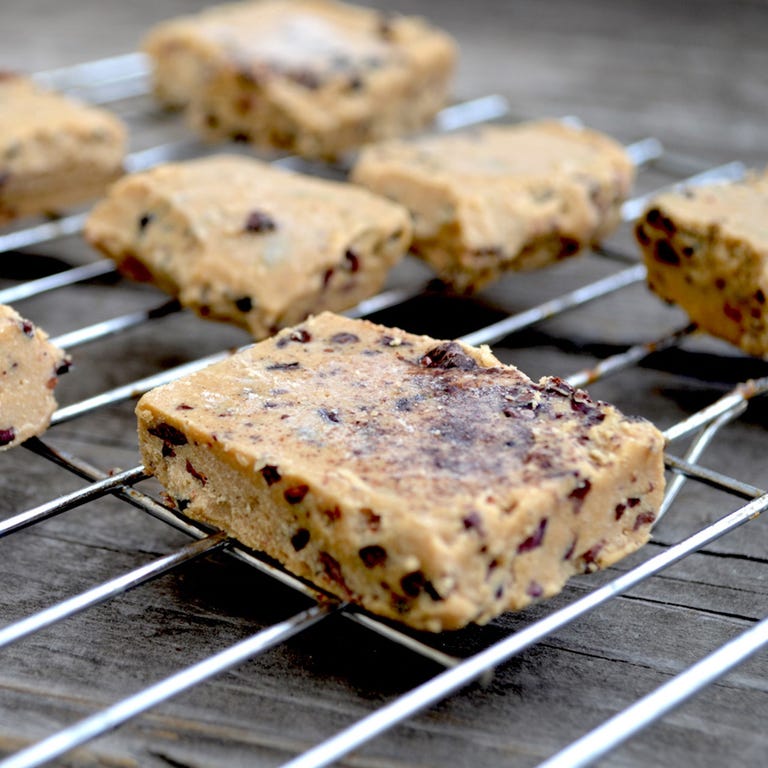 Renewing All Things
Get the recipe
The secret to these magical keto protein bars, is in Ancient Nutrition's vanilla bone broth powder, mixed with coconut oil, and nut butter. Sprinkle in a handful of keto chocolate chips if you want to really nail that craving.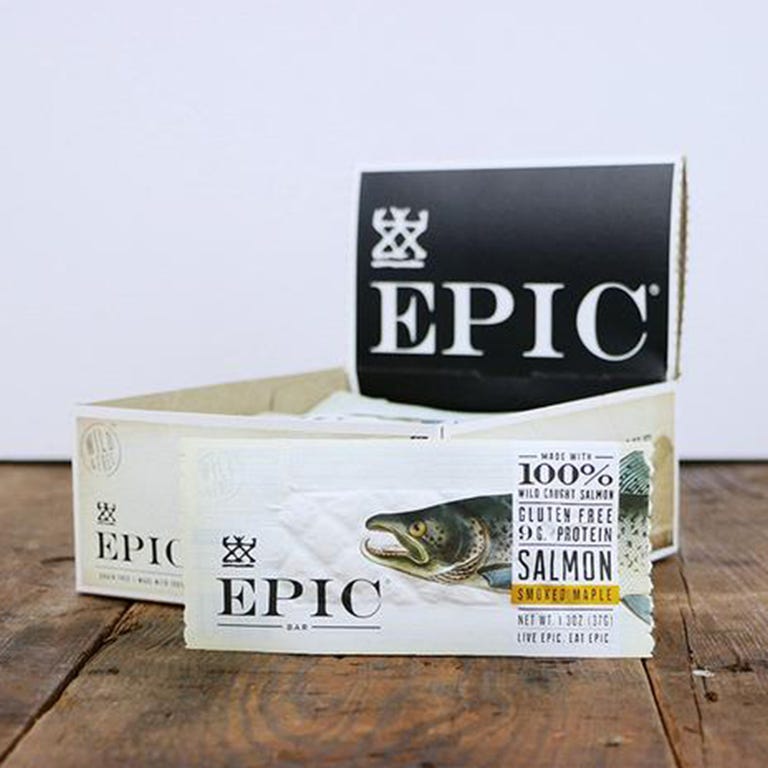 store.epicbar.com
Epic Bars, $25 for 12 bars, amazon.com
BUY NOW
Epic is known for its low-carb and keto-friendly snacks made from the highest-quality ingredients and whole foods. They do not cut corners when it comes to taste or nutrition, making the bars from pastured, hormone-free meats, along with wholesome vegetables, fruits, nuts, seeds, and spices. They boast two grams or less of carbs in most bars and come in 11 exotic flavors including chicken sesame BBQ, smoked salmon maple, and wild boar bacon.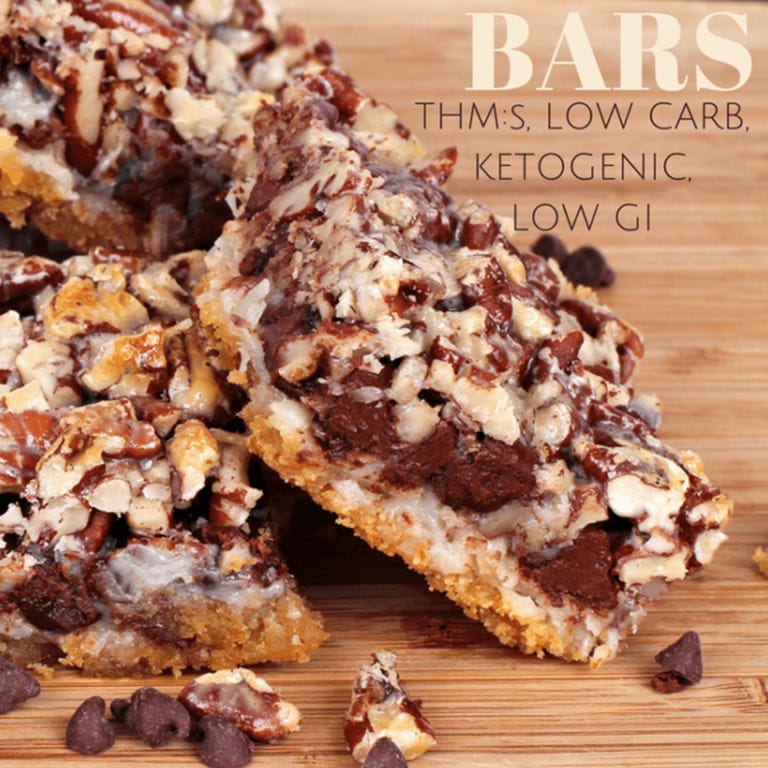 Fit Mom Journey
Get the recipe
Remember those decadent seven-layer magic cookie bars your mom used to make when you were a kid? Relive that joy without the guilt with this recipe. Every aspect of this classic has been reworked to make it keto-friendly, from the almond-flour crust, to the "caramel" sauce, to the chocolate-coconut toppings. They take a little time to put together, but it's worth the effort.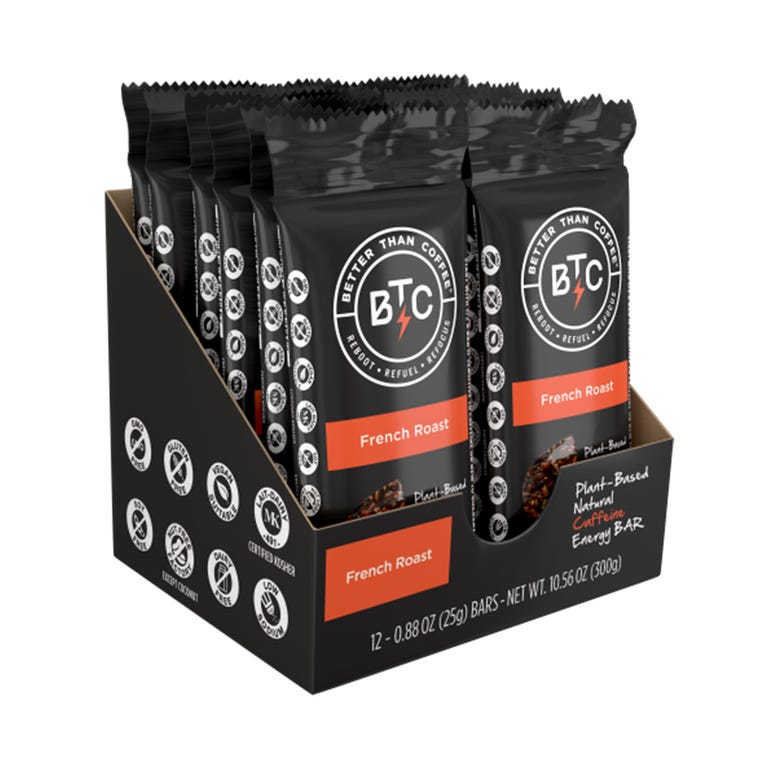 shop.betterthancoffee.com
Better Than Coffee Bars, $24 for 12 bars, amazon.com
BUY NOW
Who doesn't love (er, need?) a quick hit of energy first thing in the morning? Not only do you get 100 mg of natural caffeine in each bar, but you'll also score a dose of healthy fats and protein.
Currently the bars have under 10 grams of net carbs but the company has promised a 100 percent keto-friendly bar soon. Flavors include french roast, chocolate mint, coconut chocolate, and chocolate cranberry.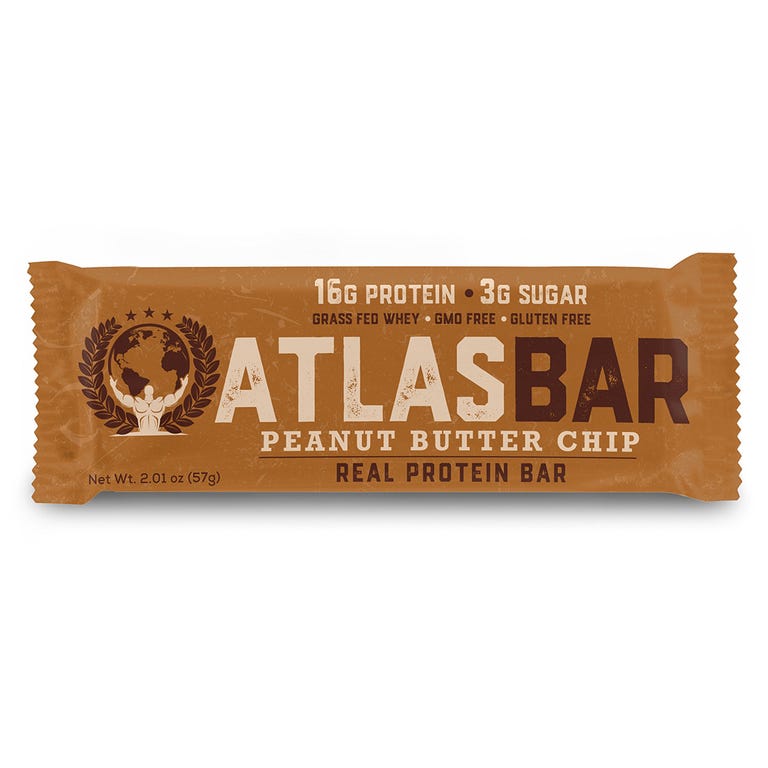 atlasbars.com
Atlas Bars, $36 for 12 bars, amazon.com
BUY NOW
Atlas bars bill themselves as the "cleanest protein bar on the planet" thanks to using grass-fed whey protein and being GMO, gluten, and preservative free. These bars are low in sugar and high in fiber to keep things moving in the bathroom (hey, no shame, it's a common problem with keto!). They come in three flavors, chocolate cacao, vanilla almond, and peanut butter.
Source: Read Full Article