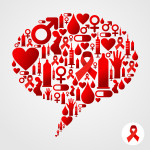 Communicating with your health care provider(s)
Talking with your health care provider (HCP) is an important part of staying on track and on top of your meds. However, it can sometimes be hard to remember what questions you want to ask your provider. It may also be hard to remember everything you and your HCP talked about.
Something that might help you make the most of your appointment is writing down a list of things you want to talk about (as shown in the example on the right). You can do this in a notebook, or on a cell phone or tablet.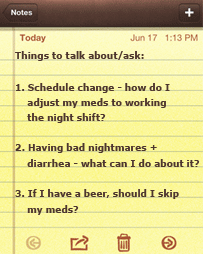 Dealing with side effects
Many people experience side effects from their HIV meds. It's completely normal to feel frustrated if you're having them, but it's not a good reason to skip a dose without first checking with your provider. If side effects are bothersome, keep track of them using the tracker (provided below). Your HCP can work with you to improve or eliminate the side effects that are bothering you.
Sample side effect tracker (Check this out first to see how to use it)
Blank side effect tracker

Self care

Because you have HIV, your immune system (the part of your body that works to fight off infection) might not work as well as it should. You may get sick more often or be sick for a longer amount of time. This is why it's especially important to take care of yourself.

Check out our health guides to learn more about staying healthy and feeling well:

Colds and Flu
College Health
Complimentary and Alternative Medicine (CAM)

Acupuncture
Meditation
Reiki
Yoga

HPV Vaccine (Gardasil®)
Meningococcal Vaccine
Whooping Cough and the Pertussis Vaccine

How to handle a medication slip up

Ideally, you'll take all of your meds as prescribed, but if you slip up and miss a dose of medication every once in a while – don't worry too much. Slip ups only become a big problem if you miss several doses or if you stop taking your meds regularly. Taking your meds infrequently is worrisome, because it can lead to relapse, ie; when you stop taking your meds altogether.

When people haven't been taking their meds regularly, making the decision to improve how often they take their meds may be intimidating. It's important to remember that you're still making progress even if you miss a few doses when you're first starting out.

The chart on the left shows what people think progress should look like (ie; continuous improvement). The second chart shows what progress typically looks like (ie; a few missed doses but constantly working towards taking meds regularly).

Transitioning to adult health care

If you were perinatally infected (born with HIV), or you were behaviorally infected later on, you may have started HIV care with either a pediatrician or an adult provider. In either case, your health care needs will change as you get older and you'll eventually need to transfer your health care to an adult doctor or nurse practitioner. It's normal to feel uncomfortable about changing providers, but you'll likely feel better if you're well prepared to make the transition.

Learn more about making the transition to adult health care:

A Guide to Getting Older and Changing Health Care Providers

When visiting a health care provider for the first time, it's helpful to bring an HIV health record with you. This is a record that will help your provider learn about your history with HIV. Check out the sample HIV Health Records first to see how to use them.

Sample HIV Health Record – Complicated Regimen
Sample HIV Health Record – Simple Regimen
Blank HIV Health Record

Adapted from:

Thurston, I. B., Bogart, L.M., Wachman, M., Closson, E. F., Skeer, M. R., & Mimiaga, M. J. Adaptation and Pilot Trial of an HIV Medication Adherence Intervention for Adolescents and Young Adults. Cognitive and Behavioral Practice, Special Issue.

Mimiaga, M.J., Bogart, L.M., Thurston, I.B., Skeer, M.R., Wachman, M., Closson, E.F., & Safren, S.A. (2012). Positive Strategies to Enhance Problem-Solving Skills: Positive STEPS. Therapist & Participant Manuals.

Thurston, I. B., Bogart, L. M., Fields, E. L., Skeer, M. R., Sticklor, L., Closson, E. F., Safren, S. A., & Mimiaga, M. J. (May 2011). Qualitative Comparison of Barriers to Antiretroviral Medication Adherence among HIV-infected Youth. Poster presented at M. Judah Folkman Research Day, Boston, MA.

Source: Read Full Article