Whether it's a remote rainforest wander or some laps of the botanical gardens, many of us turn to nature for a soothing balm to our hectic urban lives.
But sometimes the cogs are wound so tight that even Mother Nature has a hard time dismantling the ruminating. Such was this writer's experience recently when a much-anticipated bushwalk saw me return home still carrying feelings of frazzle and wondering how I could improve my chances of rejuvenation next time I head bush.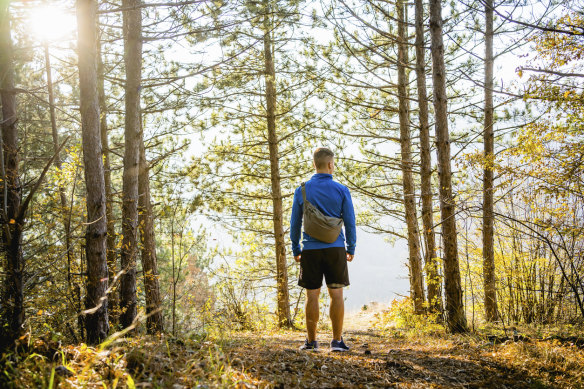 "It's just [about] being in nature and watching stuff and seeing what happens," says forest therapy guide Daniel D'Appio.Credit:iStock
Daniel D'Appio, forest therapy guide from Shinrin-Yoku Australia, believes we could benefit from applying the principles of the Japanese restorative practice of forest bathing to our time in nature.
"Forest bathing is about walking slowly and quietly and noticing what's around you – you might only cover 1.5 kilometres in three hours," D'Appio says.
"You just notice that leaf there, this tree over here, that bug crawling on the tree. It's just [about] being in nature and watching stuff and seeing what happens. There's something really different about slowing the body down as opposed to speeding it up."
D'Appio says research links forest bathing with a reduction in stress hormones and feelings of depression and anxiety, as well as enhanced immunity, and he says that unlike a hike to a particular summit, forest bathing seeks no "destination".
"For many years I've wandered around the bush in many different ways, but forest bathing amplified the wonderful feeling that comes with that – I was mind-blown from the experience," he says.
"[Along a guided walk] you might do some gentle tai chi or stop to discuss different colours of leaves. And we'll have a part we call the 'sit spot' where you just sit in silence and just 'be'."
If, like me, you enjoy the physicality of a rigorous hike or getting your daily step count in the great outdoors, mindfulness coach Kate James suggests applying some of the principles of forest bathing to your fitness pursuits.
"I walk in nature every morning and start with some mindful walking, feeling my feet on the ground and noticing my senses – what I can see, the sounds around me, the air on my skin and the way movement feels," says James, author of Change Your Thinking To Change Your Life.
"Then I increase the pace because I need the exercise."
Here are some more ways you can bring a bit of forest bathing to your next nature walk:
Stop along the way
While traditional forest bathing sees you walk super slowly, there are still things you can do to mentally slow down on a hike.
"If you don't want to stop your energetic walking, you could walk to a landmark and just sit for 15 minutes and not do anything," D'Appio suggests.
"Don't meditate or play music or re-attune your chakras – just sit there, be in nature and see what happens."
Look for broader benefits
Try not to put too much pressure on a nature walk to ease all of your stresses.
"For me, when I'm connecting with nature, I'm looking for that greater sense of perspective, to immerse myself in the wonder of nature and remember that life is not just news stories and Instagram feeds," James says.
"I'm reminded that the pace of nature is cyclical and slower than my busy mind sometimes goes."
Welcome any revelations
If you don't emerge from the bush feeling all Hakuna Matata, all is not lost.
"Potentially [the walk] has been quite effective because you've become aware that you're feeling frazzled or frustrated and potentially you need to do something about that, whether it's through rest or taking things slower," suggests Mary Spillane, clinical psychologist from the Headspace app.
"It's important to be realistic about what can be achieved. Mindfulness isn't about walking into nature and clearing your mind – sometimes your mind is constantly drifting, and if you notice that, you're doing mindfulness."
Silence your phone … and your friends
If you really want to enhance your logged off time, then naturally D'Appio suggests switching off phone notifications and introducing quiet spells with your walking buddy.
"If you walk with a friend and have a conversation, your body often goes into this automatic walking mode and you don't really notice what's going on around because you're focused on the conversation," he points out.
"Maybe you could suggest spending five minutes walking quietly and then talk about what you've both noticed."
Do it locally
While soaking up awe-inspiring natural wonders can be lovely, Spillane says that sampling your local landscape offers reduced travel time and more opportunity to get into nature regularly.
"There's nothing to suggest that you need to go to the most spectacular location to reap the benefits of mindfulness," she says.
"We live in a world where we are chronically disconnected from 'self' … but there are less of those distractions in nature. It can help ground us in the present moment [through tuning into] our senses."
Make the most of your health, relationships, fitness and nutrition with our Live Well newsletter. Get it in your inbox every Monday.
Most Viewed in Lifestyle
From our partners
Source: Read Full Article