Whether it's the lure of the snooze button in the pre-dawn darkness or the comfort of the couch after a hard day's work, even the most motivated of exercisers will crave rest at times. But how can we tell if we're choosing the restorative option to truly regenerate or simply to procrastinate?
When guests arrive at the Kamalaya Health Retreat in Koh Samui, often they're hoping to lose some weight or improve their fitness.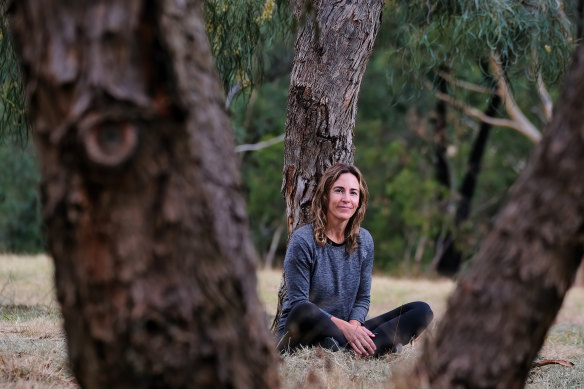 Alex Kingsmill has swapped her high intensity, long distance running for pilates and walks.Credit:Luis Enrique Ascui
But after chief wellness officer Karina Stewart and her team assess their state of health and stress, clients might be surprised to be prescribed a program based around yoga, pilates and meditation.
"It may suddenly become apparent during the consultation with our naturopaths that they are actually exhausted, on the verge of burnout and in need of a very different protocol … to replenish their energy levels to help cope with and manage stress or burnout," Stewart says.
"Adding extra strain on the body when someone is depleted or burnt out will only make things worse and potentially increase serious health complications. It's like trying to pour from an empty cup – if you do not have the energy to begin with, how can you expend what little is left of it on a demanding fitness regimen?"
Stewart says that when we can learn to match our lifestyle habits to our levels of exhaustion and stress, we can access mental clarity, more energy, improved moods, better sleep and overall greater wellbeing.
That's something that Alex Kingsmill, 44, learnt the hard way after years of running long distances and doing gruelling gym workouts, believing exercise needs to be a slog.
"Exercise is so laden with messages about being healthier and looking a certain way, so it's difficult to distinguish between what you really need to do and what you 'should' do," says Kingsmill, now a life and career coach.
She upped the exercise ante after her mum died in her late 20s to try to mask her grief, only to end up with a knee injury.
"Running kind of beat out the emotional pain, but the injury forced me to slow down and assess things," she says. "In retrospect, I think it would've been more helpful to have done exercise such as walking and stretching and swimming, that helped me feel the grief and process it, rather than just closing my ears to it."
If endurance or high-intensity training makes you happy, keep going. If not, consider other forms of exercise.Credit:iStock
If you're trying to build your fitness, training for a challenging event or simply trying to cement a habit of regular movement, it can feel like you're letting yourself down if you take a day off or veer from your training plan.
But Alex Parker, Victoria University professor of physical activity and mental health, says recognising when you need rest can have a valuable flow-on effect into the rest of your life.
"If you've got aches and pains and your [training program or] recovery is impacting your sleep or disrupting your work schedule or how you connect with family and friends, that's probably pushing yourself to a point where it's no longer helpful or healthy for you," Professor Parker says.
"It might be that your body needs 24 hours of doing nothing, or it might be that you need to check in about your motivations for doing this training."
Professor Parker says one skipped session won't derail the fitness "base" you've built.
"If you've been working really hard in your training and in your everyday life with work and other commitments, it's OK to take a break," she says. "Take a breath and think about what you would say to a friend who was coming to you with the same situation."
Often Professor Parker says some light movement is the ideal compromise. "Some movement is better than none for our mental health, so it's important to plan for tough or tired days – so if you're not feeling up to that really long run, maybe doing some gentle stretching or meditation will be beneficial for restoring the body and preparing to work harder next time," she says.
And if you're continuously skipping sessions, Professor Parker suggests finding a physical activity that you actually enjoy.
"For those people who absolutely love doing high-intensity exercises, and they get a lot of joy and achievement from it, don't make a change," she says. "But if your body's saying, 'This is not the right approach', then be flexible and try as many things as possible to find the things that give you an immediate mood lift or make us feel positive … because then we're more likely to do it again."
That's something that rings true for Kingsmill, who has ditched gruelling workouts for nature walks and pilates. "I'm much better attuned to what exercise feels punitive and what feels nourishing," she says. "It's been a process of learning to tune into my body and distinguish from what I 'should' do and what I really want and what my body needs."
Make the most of your health, relationships, fitness and nutrition with our Live Well newsletter. Get it in your inbox every Monday.
Most Viewed in Lifestyle
From our partners
Source: Read Full Article