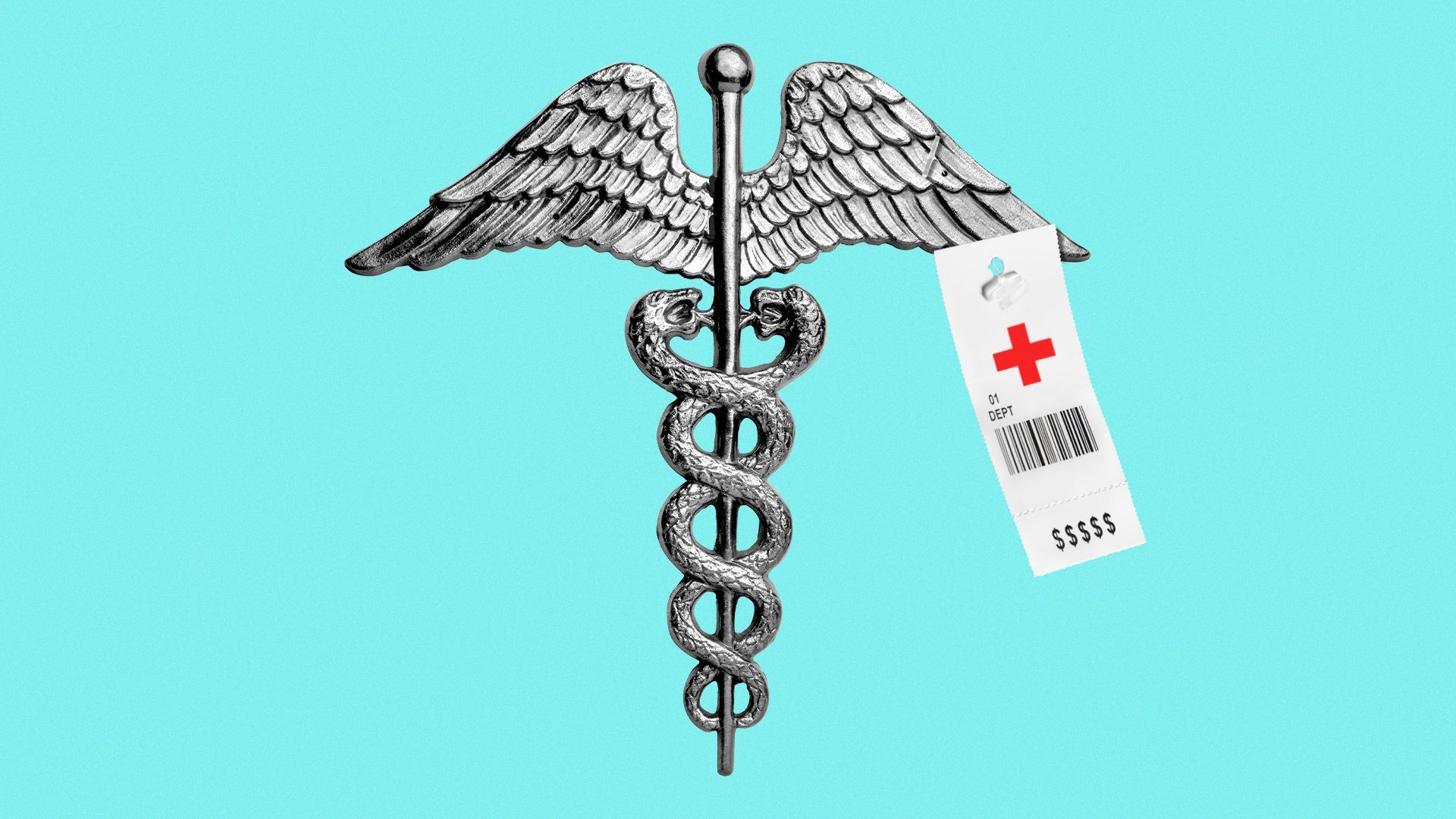 Illustration: Natalie Peeples/Axios
Amazon, Walmart, CVS, Dollar General and other big retailers are elbowing their way into primary care, pushing a customized consumer experience driven by digital health products.
Here's a look at what some of the major retail brands are doing when it comes to delivering health care.
Amazon recently acquired One Medical, a membership-based primary care company, adding a tech platform and more than 125 physical locations. The online retail giant also bought pharmacy company PillPack and recently launched a generics subscription service. It also owns Whole Foods.
Albertson's launched Sincerely Health, a digital health and wellness platform, in February to use in conjunction with shopping across the company's portfolio of grocery store chains.
Best Buy Health, which acquired remote-patient monitoring company Current Health in 2021, announced on Tuesday a deal with North Carolina-based Atrium Health to offer tech support to support the health system's hospital-at-home program.
CVS Health in January announced a plan to buy Oak Street Health, a value-based primary care group focused on Medicare patients. The pharmacy giant also owns insurer Aetna, pharmacy benefit manager CVS-Caremark, home health company Signify Health, and health care service brands MinuteClinic and HealthHUB.
Dollar General announced last year plans to turn itself into a "health care destination," ramping up the number of health and wellness products on its shelves. In January, it partnered with DocGo to open on-demand mobile health care clinics.
Walgreens-backed primary company VillageMD plans to open more than hundreds of full-service doctors' offices in Walgreens locations. VillageMD also acquired primary, specialty and urgent care company Summit Health+CityMD with investments from Walgreens and Evernorth, the health services business of Cigna.
Walmart Health announced last week that it plans to nearly double the footprint of its in-store clinics, which offer primary, behavioral health vision and dental care. Last fall, it inked a 10-year Medicare Advantage deal with UnitedHealth Group.
Source: Read Full Article