I spent most of my life with an athletic build, but three years ago I started putting on weight—probably for a number of reasons. I wasn't exercising at all and I wasn't paying attention to what I was eating (or how much).
Basically, if I wanted to eat something, I would. For breakfast, I loved sweet things like waffles with butter and syrup. Lunch was usually a sandwich with cold cuts, cheese, and mayonnaise, and for dinners, well, I ate anything and everything.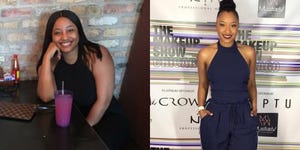 My favorite dinners were chicken cutlets, pasta, or steak—and the serving sizes were at least double the recommended amount, if not triple. I wasn't necessarily a snacker—my poor choices revolved around meals—but I did love potato chips.
When I didn't want to look at my own reflection, I knew I needed to change.
In April 2017, I realized that I no longer looked in mirrors or street windows as I passed by—I just didn't want to see myself. That was the moment I knew I needed to do something about my weight and lifestyle. So, on May 1, 2017, I walked into Weight Watchers for the first time—and I never looked back.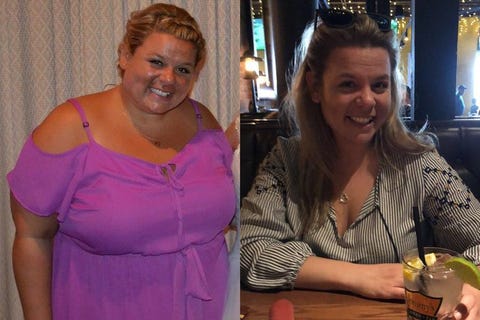 Jessica Pittius
I chose Weight Watchers because of the program's positivity. It encourages you to embrace your weight-loss journey through promoting a healthy lifestyle for your mind and body. The program encourages you to make better choices while still enjoying your life.
Reducing portion sizes was the biggest change I made to my diet.
Weight Watchers focuses on portion sizes—something I definitely needed to work on. For me, measuring out what I ate helped too, whether it was an evening snack or how much olive oil to use in a recipe. I had to re-teach myself proper portion sizes.
I also cut down on cooking with fatty ingredients such as butter or unhealthy oils. Weight Watchers taught me that if you can fry a food, you can bake it—and it can still taste delicious. I didn't deprive myself, either; I still ate bread, pasta, and pizza, I just make better choices while eating them (like having two slices of pizza instead of my usual four).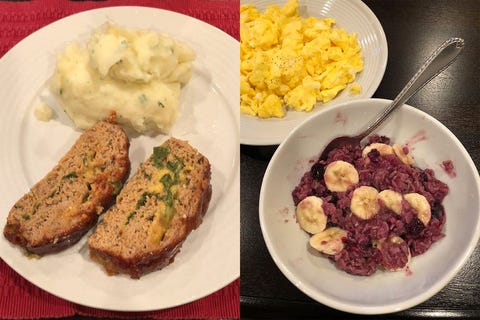 Jessica Pittius
Swapping out unhealthy carbs (like white pasta or rice) with vegetables that had a similar consistency to the carbs (like zucchini noodles or cauliflower rice) made a huge difference too. And I cut out all food and beverages with high sugar content (so, no more sugar in my morning coffee).
For me, a typical day of eating on Weight Watchers looked like this:
Breakfast: Scrambled eggs with two eggs, a half-cup egg whites, and two tablespoons reduced-fat cheddar cheese; and one-quarter cup oats with blueberries, bananas, and a pinch of cinnamon. (I like to start my morning with tons of protein.)
Snack: I always get hungry mid-morning, so that's when I reach for a piece of fruit.
Lunch: An English muffin with one teaspoon mayonnaise and turkey breast cold cuts.
Dinner: Something with lots of protein and veggies. (I like the recipes found on Skinnytaste a lot!)
Eating well made me want to start moving more, so I made adjustments throughout my day.
At first it was little things like taking the stairs at work or parking my car a bit further away from entrances. My office is located on the fourth floor, so the first month I would set a goal to take the stairs up and down around three to four times per day. As a matter of fact, I still only use the stairs to this day.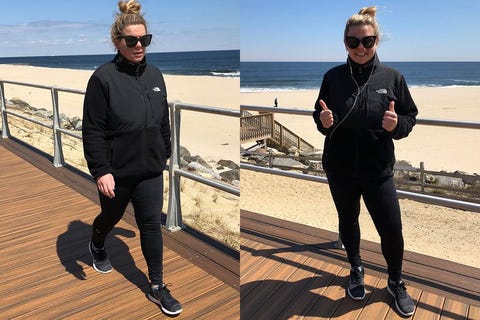 Jessica Pittius
I also started walking one mile, four days a week. And after about a month, I joined the YMCA and started swimming around three to four days per week for 1,000 yards (that's 40 laps in a 25-yard pool). Soon after, I upped my walking mileage and purchased a Fitbit to track my progress.
The one thing I've never done throughout my weight-loss journey: step foot into a gym. I just didn't need to.
I always like to say that I didn't diet—I changed my lifestyle.
Weight Watchers teaches you how to live a full and happy life without missing out on anything. I have no reason to go back to my old eating habits because I never feel deprived. I still get to enjoy weddings or birthdays or work parties, because I've learned what healthier choices look like and I always keep moving.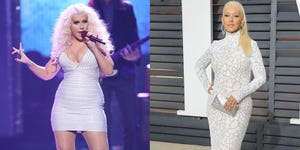 As an added bonus, I can finally enjoy fashion and makeup in the ways I've always dreamed of. Before my weight loss, I never ended up looking the way I had envisioned when I would try on clothes or try a new lipstick. After this journey, though, I've realized it was because I was unhappy with my body.
The biggest reward I've reaped is the sense of empowerment I have felt and continue to feel. I've learned that you can truly do anything you put your mind to. I can say that I love the person who looks back at me in the mirror now—on the inside and the outside.
Source: Read Full Article