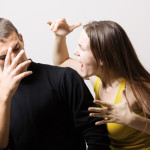 Establishing relationships is a big part of moving from childhood into adolescence and adulthood. Unfortunately, some people may find themselves in a relationship that involves abuse or violence. It can be especially hard for guys to tell someone that they're being abused, but it's important to get help. This guide offers some helpful information on identifying an abusive relationship and how to get help for yourself or for a friend.
What is an abusive relationship?
Abuse in a relationship can be both physical and emotional. Remember that emotional harm and the stress it causes can be just as damaging as physical abuse. Some signs of abusive relationships include:
Someone threatening or hurting you physically or emotionally
Someone harming your possessions or people who are important to you
Fearing for your safety caused by a partner, co-worker, someone at school, or another adult
Someone making you feel worthless or bad about yourself
Feeling the need to protect yourself by threatening or harming others, their possessions, or by making others feel bad about themselves
How can I get help?
If someone is harming you or threatening you at home, school, work, or anywhere else – get help. Talk to your health care provider, guidance counselor, or other trusted adult. These people can help you with your concerns. If you ever feel that you are in danger, call 911 and explain your situation.
If you're abusing anyone (or even thinking about it) – get help. You may not understand what makes you feel angry or violent and probably wish you could stop. You may be worried about other people knowing you have a problem. If you feel you have trouble controlling your temper, there is help available. Talk to your health care provider, a counselor, or a trusted adult who can help you find the help you need.
There may be local resources in your community that you can call. Here are some national hotlines that you can call 24 hours a day to get help and advice.
loveisrespect.org: 1-866-331-9474
National Domestic Violence Hotline: 1-800-799-SAFE (7233)
National Sexual Assault Hotline: 1-800-656-HOPE (4673)
Youth Crisis Hotline: 1-800-448-4663
Other organizations that can help include:
Break the Cycle
Men Can Stop Rape
National Latino Alliance for the Elimination of Domestic Violence
Source: Read Full Article